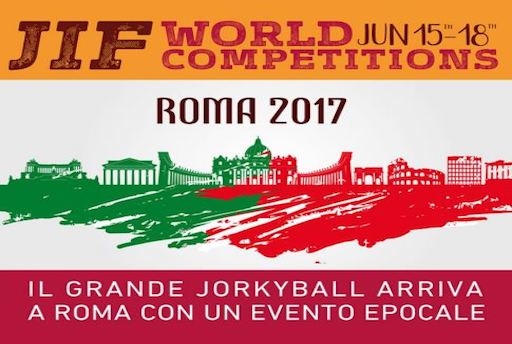 JIF WORLD COMPETITIONS ROME 2017
From 15th to 18th of June
The Jorkyball International Federation (JIF) has chosen the City of Rome, Italy, for welcoming the JIF World Competitions 2017, scheduled on June 15th to 18th. The Eternal City will host the largest event Jorkyball ever, with the participation of 13 countries, representing the affiliated JIF's Federations from 3 continents (Europe, America, Asia). 8 competitions are included in the Official Programme, involving women's teams, juniors, seniors and men:
- 6th JIF World Cup for Nations
- 2nd JIF Women World Cup for Nations
- 10th JIF World Cup for Clubs
- 15th JIF SuperChampions League
- 12th JIF Golden Cup - 3rd JIF Senior Over 35 Cup
- 2nd JIF Junior Under 23 Cup
- 1st JIF Open Trophy
The Event is purely amateur and this year proposes, for the first time, the tournament "The JIF Open Trophy" competition open to all beginners of any country in the World.
Discover what's happening in 3bble around the world.
See all news
The rules of the game are protected by copyright
Cookies are used on this site to give you the best experience.
You can change your cookie settings or get further information on how we use cookies.
If you continue without changing your settings we will assume you are happy to receive all cookies from our site.
Continue